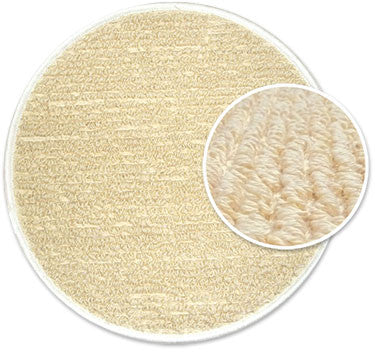 ProCotton IronMan Long-Life Bonnets
IronMan long-life carpet cleaning bonnets utilize our unique tread-like tufting process called TRD (Total Reach Design). Unlike the small 0.2″ loops in terry cloth type bonnets, our .456″ loops dig in and comb through much deeper and effectively, and provide true two-sided cleaning.
Ours won't bleed through, providing longer run times with fewer pad changes. Now with the use of premium ring spun, long staple, combed, virgin cotton specially made into our IronMan Yarn, you get the best design with the best bonnet yarn available. This gives you an excellent clean, long service life and excellent feel under your rotary or OP machine without the cotton shedding found on other cotton bonnets.

And don't forget, our staggered TRD weave also allows this bonnet to penetrate deeper into the carpet fibers, not just float on the surface, giving you the best cleaning performance. See why the ProCotton IronMan may just be the world's best carpet cleaning bonnet!

Designed and manufactured in the USA

Yarns sources in the USA

Most durable cotton bonnet in the market

Superior cleaning results over microfiber and synthetic bonnets

Excellent cotton durability

Runs easily and comfortably under your machine

Reduces operator fatigue and blown circuits

Use with Rotary or OP machines

No shedding

Very competitive price

Many sizes available



8.5 inch ( 15 per case )