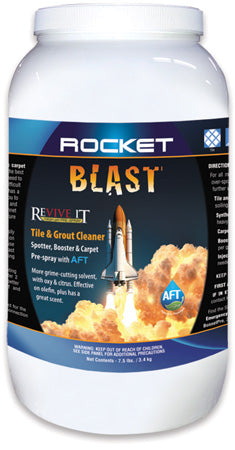 Revive iT Rocket Blast - Tile & Grout Cleaner - 7.5lb Container
Revive iT Rocket Blast – Tile & Grout Cleaner Spotter, Booster & Carpet Pre-spray with AFT
Revive iT high pH pre-spray. More grime-cutting solvent, with oxy & citrus. Effective on olefin, plus has a great scent.
Rocket Blast tile and grout cleaner, booster and synthetic carpet prespray uses only 100 percent active ingredients to give you the best cleaning performance and an exceptional value. You no longer need to suffer with harsh smelling products to clean your more difficult cleaning challenges on hard and soft surfaces. Rocket Blast has a light natural citrus fragrance but with a pH of 12.5 it enables you to blast away the toughest soils and even helps to brighten and whitening with its oxy ingredients. Plus, you have AFT, a Bonnet Pro industry exclusive technology built-in to help make future cleanings easier.
Rocket Blast also has encapsulation-like properties that are easily rehydrated, so don't worry if it dries before you extract or wash on soft surfaces. Rinse with clear water on hard surfaces or use Revive iT Radical Rinse on soft surfaces like carpet. Rocket Blast is your most advanced choice for hard and soft cleaning challenges.
While some tile and grout cleaners have an incredibly high 3 rating for health and flammability, Rocket Blast boasts a much safer 2 rating in health and a 0 in flammability. Not only does it clean better with premium ingredients, it is safer for you, your staff and customers.