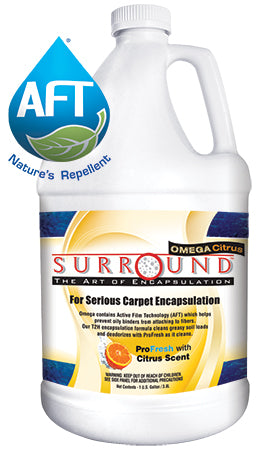 Surround Omega Citrus with AFT
Surround OMEGA Citrus is a high-powered carpet encapsulation detergent formulated for your most difficult carpet cleaning challenges, like apartments and greasy restaurants that you may have previously struggled to clean. Just because Surround OMEGA can clean the tough stuff, don't think for a moment that it's not your "go to" product for residential encapsulation carpet cleaning. It will also clean there exceedingly well, and with the customer-pleasing ProFresh scent with Citrus, your residential customers will be very pleased that they called you.
Using Bonnet Pro's exclusive T2H polymers and our signature ProFresh scent, you and your customers will be glad you chose Surround OMEGA. OMEGA can be used for low moisture carpet cleaning due to its encapsulation properties from our T2H polymers. Plus, OMEGA makes a great pre-spray for hot water extraction. Regardless of your method, OMEGA Citrus will help you power through the tough greasy jobs like restaurants and apartment cleaning while saving you money by using low dilutions. Only 2-4 ounces will clean most maintenance type jobs. With our neutral pH you never have to worry about the rugs you clean. Even natural fibers can be cleaned, however pretesting is always recommended on all natural fibers. Old school chemistries needed a high pH, not so with our new modern formulas in OMEGA.
Most encap cleaners with Surround OMEGA Citrus's cleaning ability have a health rating of 2, but OMEGA has a health rating of only 1.
So, if you're looking to save time with a safer, better smelling high-power encap cleaner, with a carpet safe pH of only 6.5 to 7.5, built-in deodorizers and very friendly, money-saving dilution-mix, then look no further.
Product Features:
Highly effective on heavily soiled carpets & upholstery
Eliminates/removes greasy soils
Super concentrated
As little as 2 ounces per gallon
As low as .62 cents per RTU gallon
T2H Hybrid Polymers
No crystallizing dust or crunchy carpets
No rapid soiling
Crowd pleasing ProFresh & Citrus signature scent
Zinc-based odor neutralizers
Special antimicrobial keeps mixed solutions fresher longer, saving you money
Use for Bonnet and all LM, extraction pre-spray and upholstery
Health rating is a 1
pH of 6.5 to 7.5
Surround Omega is freeze thaw stable
Proudly made in the USA
---
We Also Recommend